Explore the vast industrial possibilities in the usage of Advanced machines in Minecraft PE. As you may know, it is possible to create automated farms, even machines, using the standard in-game Redstone possibilities. This add-on is only supposed to make it easier for you to build complex automized mechanisms.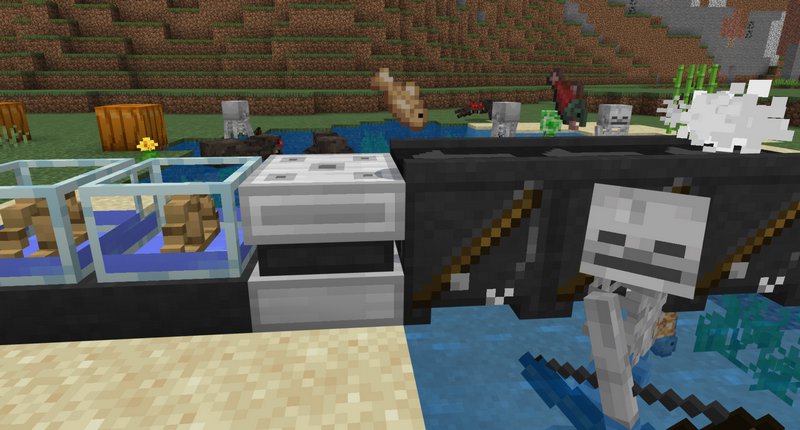 It is doing so by adding a set of items that can perform each a simple task. Automative farms gather resources, conveyors move them along the way, only to stock them in storage.

What machines will be available:
Combustion Generator – Generates 24 RF/s from coal.
Lava Generator – Generates 30 RF/s from lava bucket.
Void Miner – Generates ores using 20 RF/s.
Mechanical Furnace – Smelts ores and doubles them using RF 100 RF/ore.
Power Core – a must element for machines to work, supplies machines in a 30 block radius with energy. 0/100,000 RF (Sneak interact to remove)
Sieve – Separates useful materials from gravel, dirt, sand, or soul sand.
Barrel – Turns leaves into the water.
Matter Converter – Turns cobblestone into netherrack, sand into soul sand, and obsidian into crying obsidian using 100 RF/block.
Auto Farmer – Farms crops in a 7×7 area using 20 RF/s.
Cobblestone Generator – Generates 1 cobblestone every 5 seconds using 5 RF/s.
Vacuum Hopper – Collects all items in a 7 block radius using 10 RF/s.
Water Wheel – Generates 2 RF/s passively.
Crusher – Crushers cobblestone into gravel into the sand using 60 RF/block.
Chunk Loader – Loads chunks in a 4 chunk radius.
Conveyor Block
End Cake – Teleports player to the end.
Spikes – deals damage.
Bio Generator – Generates 20 RF/s from saplings, logs, leaves, seeds, and apples.
Steam Generator – Generates 30 RF/s from boiling water
Dragon Egg Generator – Generates 60 RF/s from the dragon egg.
Chopper – Chops trees when placed below the dirt block they grew on, uses 20 RF/s.
Fisher – Fishes when placed above a water source block using 15 RF/s.
Passive Spawner – Spawns passive overworld mobs above it every 10 seconds using 20 RF/s.
Nether Spawner – Spawns hostile nether mobs above it every 10 seconds using 30 RF/s.
Hostile Spawner – Spawns hostile overworld mobs above it every 10 seconds using 30 RF/s.
Auto Sieve – 30 RF/block – Input Sand/Gravel/Dirt/Soul Sand Sieves faster and automatically
Advanced Solar Generator – 10 RF/s Generates RF passively
Make sure to enable all "Experimental gameplay" options in a world setting.