Terraria is a game very much like Minecraft, so why not have the best from both worlds? This addon adds mobs, ores, bosses, and items from Terraria into Minecraft PE. The more content we have in the game – the more fun it is to play overall. Let's talk about content now.
New Ores
New ores can be used in the crafting of swords and pickaxes. Copper Ore, Tin Ore, Lead Ore, Iron Ore, Silver Ore, Tungsten Ore, Gold Ore, Platinum Ore, Crimtane Ore, and Hellstone Ore will be appearing in the world's depths.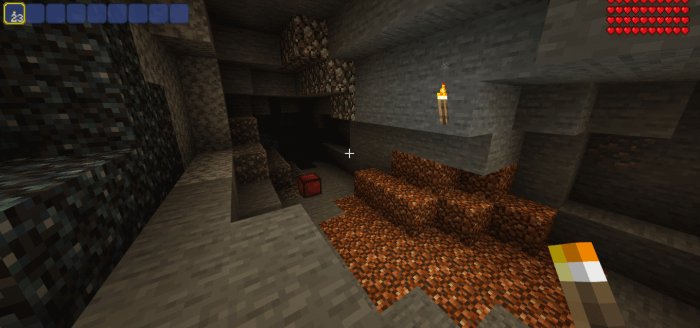 Swords
There is no such thing as too many swords. You can use new ores to craft first-grade swords that will be cutting things like if it was butter.
Bee Keeper
Blade of Grass
Blood Butcher
Blue Phaseblade
Bone Sword
Cactus Sword
Copper Sword
Ebonwood Sword
Enchanted Sword
Fiery Greatsword
Gold Sword
Iron Sword
Lead Sword
Light's Bane
Marumasa
Night's Edge
Platinum Sword
Rich Mahogany Sword
Shadewood Sword
Silver Sword
Starfury
Tin Sword
Tungsten Sword
Wooden Sword
Zombie Arm
Bows
Copper Bow
Tendon Bow
Demon Bow
Gold Bow
Molten Fury
Iron Bow
Lead Bow
Platinum Bow
Silver Bow
The Bee's Knees
Tin Bow
Tungsten Bow
Wooden Bow
Axes
Copper Axe
Tin Axe
Iron Axe
Lead Axe
Silver Axe
Tungsten Axe
Golden Axe
Platinum Axe
The War Axe of The Night
Blood Lust Butcher
Molten Hamaxe
Meteor Axe
Armors
Copper
Crimson
Shadow
Gold
Molten
Iron
Lead
Meteor
Platinum
Silver
Tin
Tungsten
Boomarangs
Wooden Boomarang
Enchanted Boomarang
Flamarang
Throwables
Poison Knives
Throwing Knives
Bones
Shurikens
Guns
Boomstick
Flintlock Pistol
Handgun
Minishark
Musket
Phenoix Blaster
The Undertaker
Space Gun
Pickaxes
Bone Pickaxe
Cactus Pickaxe
Copper Pickaxe
Deathbringer Pickaxe
Nightmare Pickaxe
Gold Pickaxe
Molten Pickaxe
Iron Pickaxe
Lead Pickaxe
Platinum Pickaxe
Silver Pickaxe
Tin Pickaxe
Tungsten Pickaxe
Accessories
Lava Charm
Aglet
Balloon Pufferfish
Hermes Boots
Band of Regeneration
Shiny Red Balloon
Umbrella
Healing Items
Featherfall Potion
Gravitation Potion
Healing Potion
Invisibility Potion
Ironskin Potion
Lesser Healing Potion
Lesser Mana Potion
Mana Potion
Mining Potion
Obsidian Skin Potion
Recall Potion
Regeneration Potion
Wormhole Potion
Ale
Bezoar
Bottled Honey
Carton of Milk
Cream Soda
Magic Items
Aqua Scepter
Flower of Fire
Space Gun
Beegun
Book of Skulls
Waterbolt
Other Items
Bugnet
Depth Meter
Magic Mirror
Empty Bucket
Honey Bucket
Lava Bucket
Leaf Wand
Life Crystal
Living Wood Wand
Musket Ball
Wooden Arrow
Piggy Bank
Water Bucket
Whoopie Cushions
Explosives
Beenade
Bomb
Dynamite
Grenade
Summoning Items
Crimson Rod
Hornet Staff
Nectar
Slime Staff
You can find the Crafting Recipes here.
New Biomes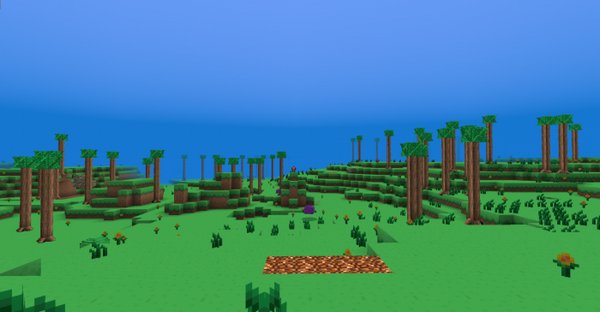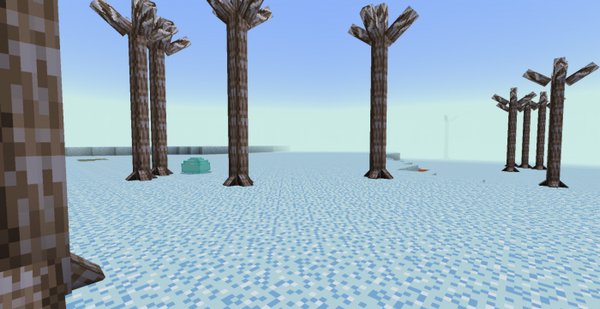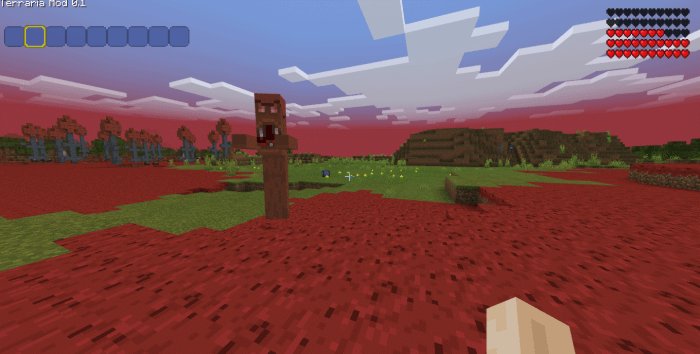 Mobs and Bosses
Terraria has a lot of memorable enemies that now will inhabit your Minecraft world. Zombies, Slimes, Demon Eyes, Face Monsters, Blood Crawlers, Crimera, and Giant Worms.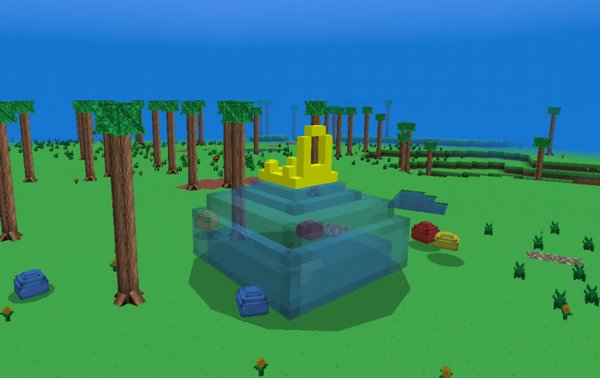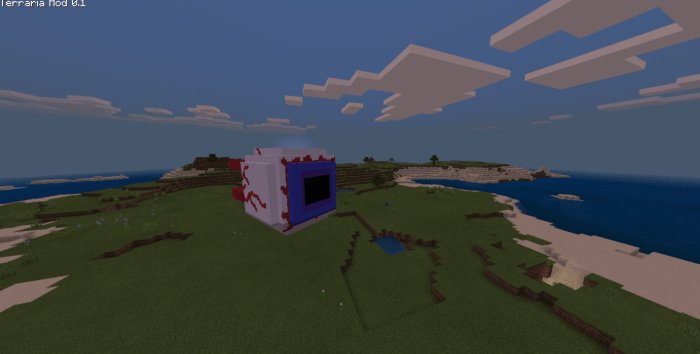 Bosses that will make an appearance are Eye of Cthulhu, Brain of Cthulhu, King Slime, and Skeletron.
What's new:
Added the Corruption biome
Added the Eater of Souls
Added the Devourer
Added Corrupted Tools, Weapons, and Armor